Free Estimates
Large Format Screening
bhs retractables is proud to offer two large format screen systems so that your exact screening needs can be met. learn more below
Mirage 3500 System applications
Custom manufactured to fit most spaces up to 14 ft in width, 10 ft in height
Multi slid doors
bi-fold doors
French Doors
Corner openings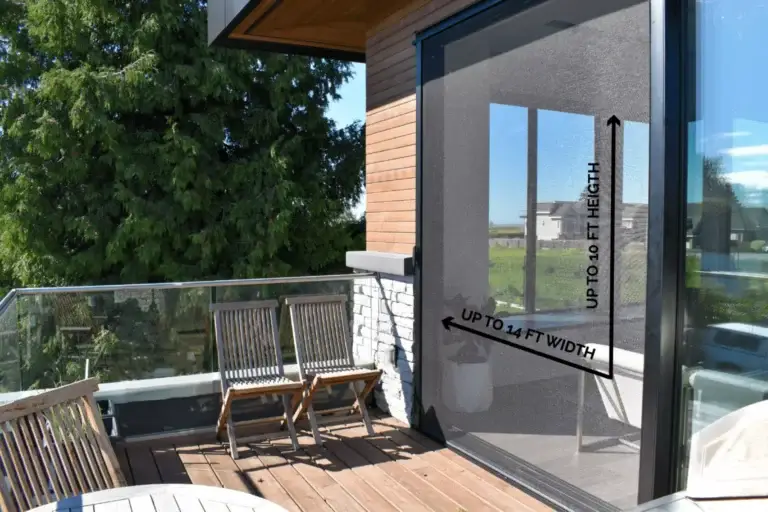 Warranty
Wizard Screens offers a 5 years limited warranty on all components, excluding screen mesh, to the original purchaser of The Horizon from the date of purchase. This warranty is non-transferable and will remain intact for the original purchaser provided the product was installed by an Authorized Dealer and/or factory trained installer and has not been moved or altered in any way.
Paint Finish warranty is 10 years for powder coated or painted exposed surface of aluminum and steel components against corrosion and cosmetic deterioration under normal conditions and use.
Wizard warrants the components shall be free of defects in materials and workmanship. "Defects" are defined in this warranty as imperfections that impair the utility of the retractable screen. Wrinkles in the mesh or puckering along its edges in itself does not constitute a defect.
The limited warranty does not include components that have been damaged by misuse, abuse, unauthorized repair or modification, lack of maintenance, normal weathering, fading, scratching, airborne or applied corrosive contaminants, acts of God or other causes beyond the control of Wizard Screens. If a component is defective and you require assistance, please contact your original point of purchase. Please retain your invoice as proof of purchase.
Proof of purchase is required for any after sale service.
bhs retractables warrants solely to the original purchaser of our retractable screen that the screen purchased shall be free from defects in materials and workmanship under normal use for as long as the screen is owned by the original purchaser and until the ownership of the screen is transferred to another. This Limited Warranty does not apply to (a) damage due to normal weathering, chalking, scratching, fading, corrosive atmosphere contaminants (eg. chemical fumes, pollution, salt), volcanic ash, lightning, windstorms, tornadoes, or any other act of God, explosions, riots, civil disturbances, war, misuse or abuse, or other causes beyond the control of bhs retractables b) non residential applications (c) mesh and mesh components; (d) asserted defects caused by modification, misuse, or abuse, or improper maintenance of the screen; (e) asserted defects* involving subjective personal likes or judgments**; (f) defects asserted by any purchaser who did not purchase the screen from bhs retractables in the United States of America; (g) defects asserted by any purchaser who did not have the screen installed by bhs retractables; or (h) asserted defects caused by doorway conditions beyond the control of bhs retractables, its authorized distributors and dealers.
Exceptions: 
*The term "defect" as used in this warranty, is defined as imperfections which impair the utility of the product. Wrinkles in the mesh or puckering along its edges in itself do not constitute a defect.
**Combinations of mesh fabric, fabric production lot, unit size, location, and wind conditions may cause variations in the fabric's appearance and smoothness of extension and retraction of the unit.
This warranty includes the costs of removal, shipping, and installation of the defective materials for a period of one year from the date of original installation by bhs retractables, distributor or dealer and a lifetime on all parts with the exception of mesh, excluding installation and shipping.
Limitation on Obligations
The obligations of bhs retractables hereunder are limited to repair or replacement (at our sole discretion) of affected parts of the screen found to be defective under this Limited Warranty. In no event shall bhs retractables be liable for damages of any type, including, but not limited to: economic loss; or any indirect, punitive, special, incidental, or consequential damages of any type, including, but not limited to, time, wages or lost profits, of any nature or kind or for damages to or loss of property, whether caused by negligence or otherwise.
Any implied warranty is hereby limited in duration to that of the express limited warranty contained in this document unless a shorter period is permitted by law. This document sets forth the entire liability of  bhs retractables with respect to our Retractable Screens.
Some states and provinces do not allow limitations on how long an implied warranty lasts or the exclusion or limitation of incidental or consequential damages, so the above limitations or exclusions may not apply to you.
No Other Express Warranties
The Limited Warranty set forth herein constitutes the entire express warranty and representation of bhs retractables with regard to our Retractable Screen product. This Limited Warranty shall be controlling over any conflicting terms and conditions of any purchase orders, contracts or invoices which may be executed in connection with the purchase of bhs retractables Retractable Screens. No representation or warranty made by any bhs retractables distributor, dealer, agent, representative or employee shall be binding upon bhs retractables other than as set forth herein.
Claim Procedures
Before proceeding with a claim, carefully read the preceding warranty to ensure your claim is covered by the terms of the warranty. Ensure the screen has been properly maintained and cleaned in accordance with the recommendations below.
Contact bhs retractables for service – provide proof of purchase and your claim details. bhs retractables shall review the description of the asserted defect, examine the screen if necessary, and make service, repairs, and replacements as appropriate under this Limited Warranty. bhs retractables, or its distributors and dealers will NOT be responsible for removal or shipping costs if this process is not followed.
If you are not satisfied with the service you receive at any point during the claim process, please contact us directly at 847-306-0204.